Places of tourist interest: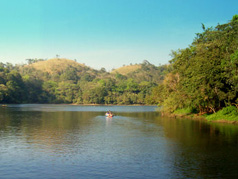 Pookote lake : Pookotte lake is a natural fresh water lake surrounded by evergreen forest and rolling hills. A fresh water aquarium with large variety of fish is an added attraction. Tourists can also avail of boating facilities, children's park, and a shopping centre for handicrafts and spices.
Banasura sagar dam : Located about 15 km North West of Kalpetta, Banasura Dam is the largest earth Dam in India. A vast expanse of crystal clear water is enclosed by blue hills on all sides, except one. It is an ideal picnic spot. Speed boat service also available.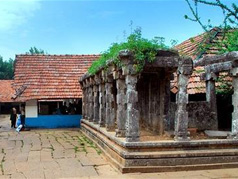 Thirunelli temple : Thirunelli is situated 29kms north east of Mananthavady under the Brahmagiri hills in the reserve forests. The temple at Thirunelli is often called 'Thekkan Kasi'. It is believed that a bath in the holly water of 'Papanasini' will wipe off all the sins. Apart from the temple, Thirunelli is a place of scenic beauty.
Kuruva island : This is a lovely island on the Kabini river. The relatively untouched island that spans over 900 acres of tropical forest is now a famous tourist spot. Apart from many rare species of birds, orchids and herbs, one might also find tribal people who row to the island from nearby locations.
Meenmutty waterfalls : only for trekkers, waterfall over more than 300 meters in 3 steps, beautiful view of the valley.
Sentinel Rock Waterfalls (Soochipara): this waterfall (200m) is better accessible, enchanting view of surrounding Mountains and valley.
Wayanad Wildlife Sanctuary: Mutanga this sanctuary is part of a greater continuum of protected jungle, the others being Nagarahole, Bandipur (both Karnataka) and Mudumalai (Tamil Nadu). Wild elephants, deers, Gaur (Bos gaurus) bisons, you will most likely be able to see during your forest expedition.
Edakkal Caves : cave on the Ambukutty Mountain of prehistoric age and with famous rock carvings on the inner cave walls. About 1000 meter above sea-level.
Lakkidi : One of the highest locations in Wayanad, Lakkidi also commands picturesque scenery. Lakkidi, the gateway of Wayanad.The lofty mountain peaks, the gurging stream, luxuriant vegetation and the bird's eye view of the deep valley on the south, with its winding roads, are breath taking. The 12 kms. long journey from Adivaram to Lakkidi through ghats road with nine hairpin bends amidst thick forests, is a fascinating experience.
Pakshipathalam : Pakshipathalam, in the Brahmagiri hills at Thirunelli in Wayanad District is an ideal tourist spot. A 17 km trek through the wild forests, brings one to this beautiful place. The deep rock caves are the habitat of a number of rare species of birds and wild animals.
Wayanad Heritage Museum, Ambalavayal: this museum exhibits findings from the regional tribal cultures present and past.